If you like Victorian millwork, and you're in
Second Life®
, you'll love the texture set I just finished!
I designed it to use as a porch for my Wheel Cottage textures, but it makes great free-standing buildings, like gazebos, as well.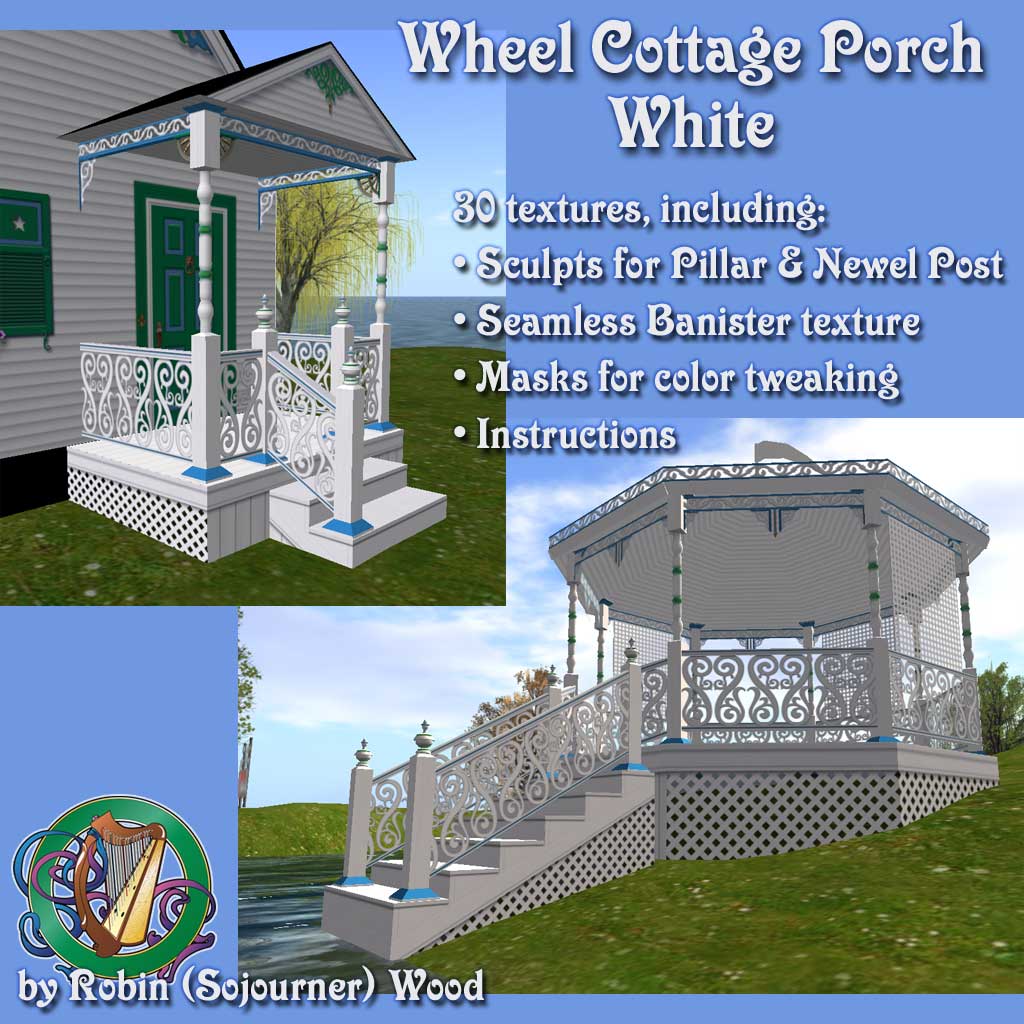 There are 30 textures here, including millwork railings, spanderels, and two kinds of brackets, both single brackets and double brackets (which work great as the inside of a box, so you can save prims on your builds.)
There's a seamless banister texture that matches the railings, beadboard for the ceiling (in two colors,) and a porch edge with either vertical siding or lattice below the facing. You also get stair edges to match, with seamless siding or lattice. And, because lattice is good, you'll also get two seamless lattice textures, one diagonal and one square, to make arbors, trellis, and windbreaks.
And of course there's gingerbread for the gable roof, both "painted on" and freestanding (with a matching shadow texture for the gable,) and a mask so you can recolor it easily in your graphics program, if you choose to do that. Or, if there's a limit to the amount of millwork you want, you can use the gable with no gingerbread decoration.
Best of all, you get sculpts to make a beautiful turned porch pillar and newel post, with shaded textures to match them, so you can have a lovely porch with surprisingly few prims. (The porch in the picture, for instance, is only 15 prims!)
All of this goodness comes with railings, banisters, spandrels, siding and lattice in either white
or green
. (There were too many things to put both in the same package.) If you want to recolor it, I strongly suggest buying the green, because it will give Hue and Saturation something to work with!
L$950 for the package, in either color (or splurge and get both; they look fantastic mixed!) 30 seamless, full permission textures. TRU license applies. (You're buying a license to use the textures, not the textures themselves, so you cannot resell them or give them away as textures, or on a single prim. They must be part of a build, consisting of at least two prims.)
On sale now, at TRU, and at
the Texture Library in Livingtree (113, 97, 25)
. Come check it out!